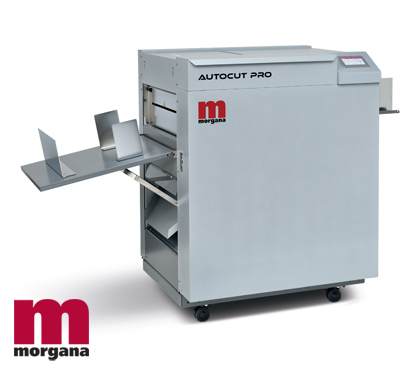 Morgana AutoCut Pro - Slitter/Cutter/Creaser
The AutoCut Pro is the latest in the range of Morgana card cutting and creasing devices. Designed for those busy digital printshops and CRD's who have the need for high speed creasing and for the production of a wide range of finished applications including business cards and promotional products.
The AutoCut Pro can run at speeds up to 5000 sheets per hour on standard creasing applications and a run of 250 business cards can be finished in less than two minutes, ready to pack and ship.
The AutoCut Pro is equipped with an upper-belt tri-suction feeding mechanism which can take wide range of paper stocks and sheet sizes. The feed table automatically elevates to separate the printed sheets to alleviate mis-feeding, along with any damage or roller-marks occurring on the finished products.
The AutoCut Pro also has a double-feed detection sensor to avoid wasting valuable prints. In addition, it's cut-mark sensor reads any image drift and will register to ensure a consistent finish on every sheet.
Video

Features
- Slit, Cross Cut, Crease, and High Speed Crease Only Mode
- Max sheet size: 13" x 19" or 13" x 27.5" with optional long sheet kit
- Can run up to eight 13"x19" sheets per minute (24 up business cards)
- Can store 150 jobs in memory
- Up to 5000 Letter sheets per hour when creasing
- 4" Touchscreen operation
- Skew Adjustment
- Slide Aligner
- Double feed detection

Specifications
Specifications
Sheet Size: from 8.2″ W x 8.2″ L up to 13″ W x 19″ L (13" W x 27.5" L with optional kit) / Sheet Weight Range: 32# bond to 130# bond / Feeder Pile Height: 4″
Dimensions
Size: 31" D x 33" W x 43" H / Weight: 440 lbs.
Electrical
120 VAC 60 Hz