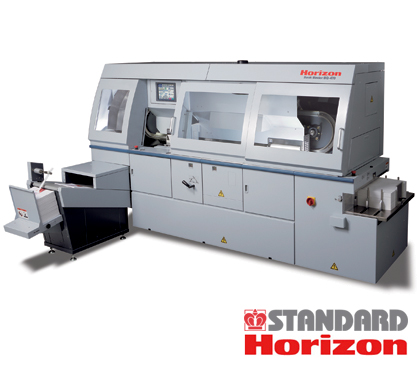 Standard Horizon BQ-470 Four-Clamp Perfect Binder
The Standard Horizon BQ-470 fully-automated four-clamp perfect binder, with its state-of-the-art design and fully-automated setup, is easy to operate with minimal operator training required. It produces up to 1,350 superior-quality perfect bound books per hour, with four clamps that travel on a vertical elliptical track.
The BQ-470 binder's 10.4" LCD touch-screen is used to provide stepper motor-controlled automation to the professional-quality mid-range binding market.
The BQ-470 can bind books up to 2.5" thick, and interchangeable glue tanks support both EVA and PUR adhesives to meet varying customer requirements. The BQ-470 perfect binder fits a sweet spot in short-run professional-quality book production with full automation and touch-screen control. And the ability to swap-in a PUR glue tank lets the BQ-470 serve an even wider range of applications, including digital color books.
Video

Features
- Fully automated setup through the intuitive icon based LCD touchscreen
- Customer replaceable glue tank unit for both EVA hotmelt and PUR hotmelt adhesives to meet varying customer requirements
- Simplified and accurate changeover to produce professionally finished books
- Equipped with two large application rollers for strong, high quality binds and a separate side glue tank for added flexibility
- Space saving design with front operation and front maintenance
- Book binding up to 2.55" thick
- Easily operated by anyone in the bindery
- Ergonomic sliding windows provide easy, safe access and a clear view of operations

Specifications
Specifications
Number of Carriage Clamps: 4 / Book Size Maximum: 12.59″ Spine Length x 12.59″ / Book Size Minimum: 5.71" Spine Length x 4.14″ / Book Thickness: 0.04″ to 2.56″ / Cover Size Maximum: 12.59″ x 25.98″ / Cover Size Minimum: 5.32″ x 8.86″ / Cover Weight Range: 82 to 348 gsm / Cover Stack Height: 5.9" / Production Speed: up to 1,350 cycles per hour
Dimensions
Due to the variety of configurations available, click on the brochure link near the top of this page.
Electrical
220 VAC 3-phase 60 Hz