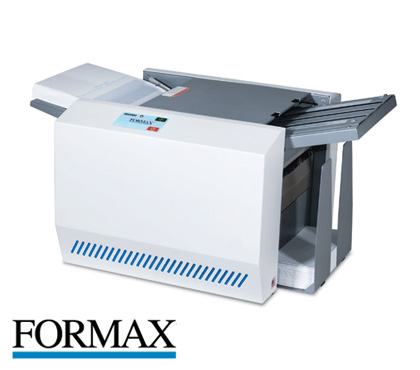 Formax FD 1506 - Pressure Sealer/Folder
The FD 1506 AutoSeal is an ideal mid-volume solution for processing one-piece pressure sensitive mailers. It features an innovative graphics-based color touchscreen control panel, one of the first in the industry. The touchscreen uses internationally-recognized symbols in place of text, making it easy for anyone to use.
With a speed of up to 100 forms per minute, the FD 1506 enables operators to complete daily jobs in no time. Fold plates are clearly marked and easy to adjust, making the FD 1506 a breeze to setup, right out of the box. With the capacity to process 14" forms, it has the versatility to fold and seal virtually any mid-volume application to meet your needs. Fold plates are marked for four standard folds - Z, C, Uneven Z and Half folds - and can be easily reset for custom folds including Eccentric Z and C-fold mailers.
The compact design and user-friendly touchscreen make this unit ideal for processing documents in an office or school environment with mid-volume applications.
Video

Features
- Color touchscreen control
- Speed: Up to 100 pieces per minute
- Easy-adjust pre-marked fold plates
- Three-roller top-feed
- Processes up to 14" forms
- Resettable counter

Specifications
Specifications
Speed: up to 6,000 pieces per hour / Paper Sizes: up to 8.5" W x 14" L / Paper Weight: 20# to 24# Bond / Feeder Capacity: up to 200 sheets
Dimensions
Machine size: 24" L x 17" D x 13" H / Shipping Weight: 82 lbs.
Electrical
120 VAC 60 Hz