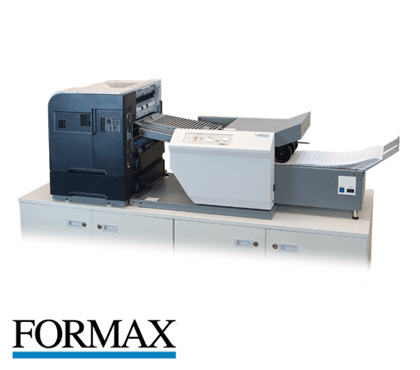 Formax FD 2002IL - Pressure Sealer/Folder
The AutoSeal FD 2002IL System interfaces the industry-leading FD 2002 AutoSeal with model-specific MICR and non-MICR desktop laser printers (not included) to provide enhanced document security.
The System's enclosed paper path is specially designed to conceal sensitive documents including PIN notices, checks, school grade reports and health care information. This feature also eliminates the added task of unloading forms from the printer and loading them into the pressure sealer.
The IL System - which includes the IL Pressure Sealer and IL Alignment Base - features a user-friendly LED control panel and clearly marked fold settings for standard 11" and 14" documents. The compact, powerful design is capable of processing up to 50,000 forms per month.
Shown with optional extended exit conveyor.
Video

Features
- Print, fold, seal in-line
- Enclosed paper path
- Enhanced security
- Processes up to 14" forms

Specifications
Specifications
See brochure link near top of page for printer compatibilty / Paper Sizes: up to 8.5" W x 14" L / Paper Weight: 24# to 28# Bond / Feeder Capacity: up to 350 sheets
Dimensions
Machine size: up to 69" L x 19" D x 23" H / Shipping Weight: 89 lbs.
Electrical
120 VAC 60 Hz