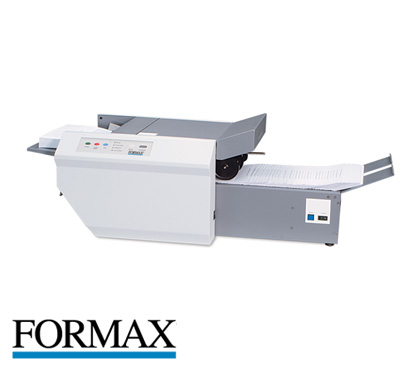 Formax FD 2036 - Pressure Sealer/Folder
The FD 2036 AutoSeal is a user-friendly high-volume solution for processing one-piece pressure sensitive mailers. The color touchscreen control panel uses internationally-recognized symbols in place of text, and includes a six-digit resettable counter. With a speed of up to 11,000 forms per hour, hopper capacity of up to 350 forms, and the ability to process forms up to 14" in length, the FD 2036 enables operators to complete daily processing jobs with ease.
Standard features include easy-set fold plates with fine-tuning adjustments, heavy-duty steel construction, insulated covers for noise reduction, and a drop-in three-tire feed system, all in a compact, modern desktop design. Fold plates are pre-marked for standard folds in 11" and 14" form sizes, and can be easily adjusted for custom folds. Fold types include Z, C, Uneven Z and C, Half and custom folds.
Shown with optional extended exit conveyor.
Video

Features
- Color touchscreen control panel
- Speed: Up to 11,000 pieces per hour
- Sliding fold plate design
- Processes up to 14" forms
- Uneven "Z" and "C" folds

Specifications
Specifications
Speed: up to 11,000 pieces per hour / Paper Sizes: up to 8.5" W x 14" L / Paper Weight: 24# to 28# Bond / Feeder Capacity: up to 350 sheets
Dimensions
Machine size: 25.75" L x 16.5" D x 14.25" H / Shipping Weight: 89 lbs.
Electrical
120 VAC 60 Hz