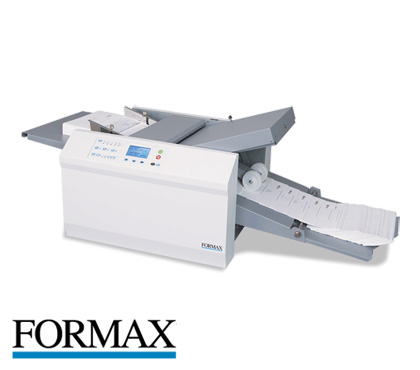 Formax FD 2054 - Pressure Sealer/Folder
The AutoSeal FD 2054 is a fully automatic pressure sealer which provides the ultimate tabletop solution for processing pressure sensitive one-piece mailers. Designed with ease of operation and efficiency in mind, the FD 2054 automatically detects and adjusts for 11", 14" and 17" forms. It features 5 pre-programmed standard folds for even panel C, V, Z and uneven/eccentric C and Z folds. It also has the ability to store up to 35 custom fold settings with the simple touch of a button.
The FD 2054 utilizes a drop-in three-roller feed system which produces dependable feeding of forms with no paper fanning required. Forms are processed at speeds up to 16,450 per hour, and are output to an integrated telescoping conveyor with automated nip roller positions, capable of holding up to 500 processed forms. The large 2.8" backlit LCD display and user friendly control panel allow for untrained operators to walk up and start processing pressure seal forms with little to no instruction.
Video

Features
- Automatic fold settings
- 17" form capability
- Integrated conveyor
- 35 custom fold settings
- Speed: up to 16,450 pieces per hour

Specifications
Specifications
Speed: up to 16,450 pieces per hour / Paper Sizes: 3.5" W x 5" L up to 12.25" W x 18" L / Paper Weight: 24# to 28# Bond / Feeder Capacity: up to 500 sheets
Dimensions
Machine size: 55" L x 21.3" D x 16" H / Shipping Weight: 127 lbs.
Electrical
110 VAC 60 Hz