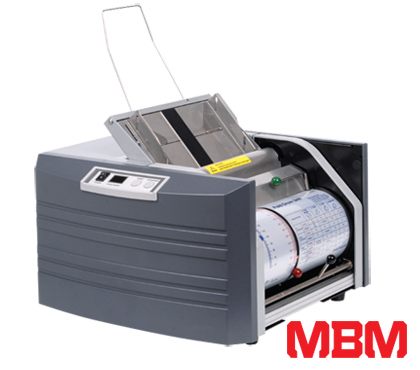 MBM ES5000 Pressure Sealer/Folder
Quickly and easily folds and seals single-sheet self mailers.
Provides an environmentally friendly mailing solution by eliminating envelopes.
Can be used for a wide variety of applications including paychecks, invoices, tax forms (W2, 1099, etc.), medical reports, and ID cards.
Compact, desktop design and quiet operation make it ideal for corporate environments.
Quick and easy set-up and adjustment.
Entire folding unit slides out for easy maintenance.
Manual feeder for pre-folded forms.
Anti-jam system.
Features
Fold Types
Z, V, C, & double parallel. Optional drum for Z and EZ folds on legal size paper.
Easy Setup
Fold positions are easily set and adjusted.
Automatic and Manual Feeder
The manual feed slot allows processing of pre-folded forms.

Specifications
Specifications
Speed: up to 4,250 pieces per hour / Form Sizes: 6" x 8" up to 9.25" W x 14" L / Paper Weight: 24# to 28# Bond / Feeder Capacity: up to 150 sheets
Dimensions
Machine size: 17" W x 16" D x 10" H / Shipping Weight: 100 lbs.
Electrical
110 VAC 60 Hz