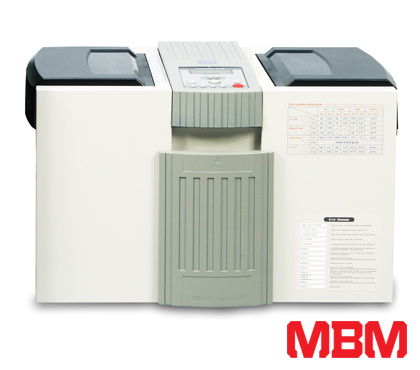 MBM IM8100 Pressure Sealer/Folder
Quick set manual fold setting. Reverse friction roller infeed type.
Job counter and batch counter.
Automatically detects, singulates, and corrects double feeds without any operator intervention for increased productivity.
Stacking capacity of 350 sheets or 650 sheets with the optional side conveyor.
Features
Fold Types
Z, EZ, C, V, & Double Parallel folds
Dual Purpose Inline and Stand-alone
Can be converted to run as a stand-alone machine allowing forms to be loaded from other printers into the large feed table.
Auto-Extending Conveyor Stacker
Optional conveyor extends automatically depending on number of forms being processed.
Reliable Interface
The IM8100 integrates easily to many leading laser printers with rear exits.

Specifications
Specifications
Speed: up to 7,000 pieces per hour / Form Sizes: up to 9" W x 14" L / Paper Weight: 16# to 30# Bond / Feeder Capacity: up to 700 sheets
Dimensions
Machine size: 17" W x 24" D x 15" H / Shipping Weight: 106 lbs.
Electrical
110 VAC 60 Hz