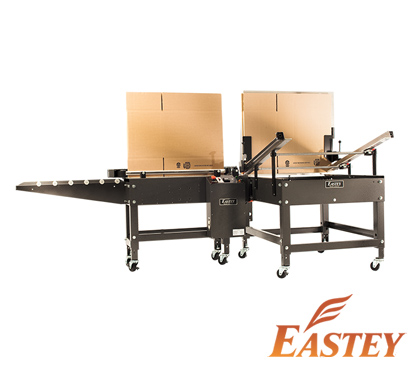 Eastey VCTS - Vertical Case Transport System
Eastey's Vertical Case Transport System allows users to print on two sides of a case eliminating the need for pre-printed cases or expensive labeling equipment and supplies. Adjustable width settings on our standard VCTS allow users to print on cases ranging in size from 10" x 10" up to 33" x 40". VCTS -XL allows cases ranging in size form 10" x 10" up to 48" x 40".
Designed for off-line case printing, the VCTS automatically feeds blank cases through a print station that is ideal for mounting hi-resolution inkjet printers and offers the ability to print virtually anywhere on either side of the case. Open access to printheads allows for easy maintenance and quick adjustments.
The VCTS includes a programmable counter that keeps track of batch quantities, rate of operation, and elapsed run time, allowing users the ability to customize case runs. The VCTS batch counter is the ideal solution for users looking to print a message on specific number of cases while eliminating the need for manual case counting.
Video

Features
- Plug-in and go operation
- Fast and easy box size changes
- Powder coated 12 gauge steel
- Low maintenance
- Industrial strength side belts
- Accommodates wide box size change
- Adjustable leg extensions
- Simple integration with ink jet printers
- Heavy duty locking casters

Specifications
Specifications
Input Hopper Capacity: up to 90 flat single wall cases / Belt Speed: up to 72 feet per minute / Minimum Box Size: 10" W/ Maximum Box Size: 33" W or 48" W depending on model
Dimensions
Due to the variety of versions available, click on the brochure link near the top of this page.
Electrical
110 VAC 60 Hz 4 Amps
Compressed Air Required
80 psi