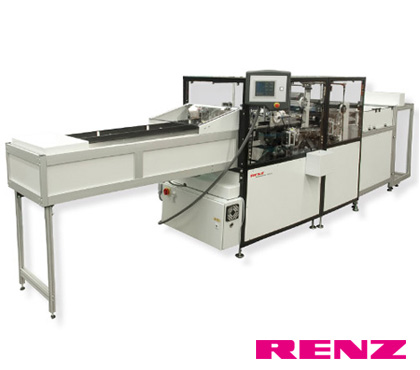 Renz AP 360-120 DIGI BL-BL - 14.1" Punching Machine
Heavy-duty, high-speed, professional, automatic, floor standing auto-punch machine. For a range of book and calendar punching production. Built-in offset collection station for the punched product.
Fast separation into layers to allow complete book block punching.
Punching dies for all types of ring wire, plastic comb, coil, calendars and bespoke dies are available.
Two finger paper pick up system which can handle a range of mixed stock.
High pile delivery of product offset on to a transport trolley with up to 29.5" high of product per trolley.
Touch screen assisted set-up process with job memory.
QSA (Quick Size Adjustment) for high flexibility of different paper formats.
Horizontal paper feeding for easy product loading.
Video

Features
- Feeding station for up to 3 single products with integrated separation of the punching layers
- Punching station and collection station for the punched layers
- Sliding station for lateral product off-set
- High-pile delivery with product off-set on transport trolley
- Automatic format adjustment
- memory to save 50 jobs
- Up to 120 cycles per minute

Specifications
Specifications
Mechanical cycles per hour: up to 7,200 / Min. punching width: 4.92" / Max. punching width: 14.1" / Min. unpunched length: 4.3" / Max. unpunched length: 14.1" / Max. punching thickness: 0.9" / Punching operation: Automatic / Punch dies available: 3:1, 2:1 ring wire, calendar, coil, plastic comb, tear-off / Die type: Professional / Selectable punch pins (QSA): Optional / Custom dies: can be ordered / Variable margin depth: No / Die changeover time: 5 minutes
Dimensions
Size: 14.5 feet L x 4 feet D x 5.25 feet H / Weight: approximately 2,290 lbs.
Electrical
230 VAC 3-phase 60 Hz