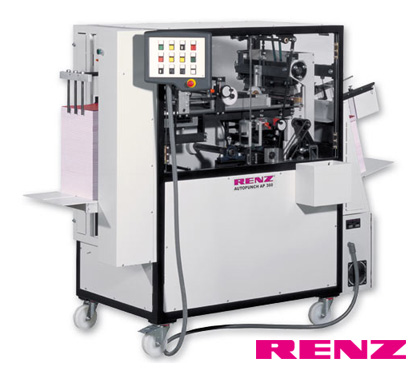 Renz AP 360 Manual - 14.1" Punching Machine
The Renz AP360 Manual is a heavy-duty, high-speed, professional, floor standing, punch machine. It is made for a large range of book and calendar punching production.
Punching can be a bottleneck in the production chain whether you produce small and average sized runs or extremely large runs. Efficient production of these jobs is the key to added profits. The AP 360 gives you the shortest set up times and allows you to punch small quantities efficiently.
Each Renz machine is the result of numerous technical innovations and considerable practical experience. The AP 360 meets a variety of requirements, which were established as the result of an intensive exchange of ideas with users. The result is top quality punching technology delivering totally new levels of performance and economic efficiency.
Video

Features
- Punching dies for all types of ring wire, plastic comb, coil, calendars and custom dies are available.
- Two finger paper pick up system which can handle a range of mixed stock.
- Fast die changes.
- Optional 2-part split dies for book and calendar work.
- Wheels allow the machine to be moved easily.
- QSA (Quick Size Adjustment) for high flexibility of different paper formats.
- Horizontal paper feeding for easy product loading.

Specifications
Specifications
Mechanical cycles per hour: up to 6,000 / Min. punching width: 3.93" / Max. punching width: 14.1" / Min. unpunched length: 3.34" / Max. unpunched length: 14.1" / Max. punching thickness: 0.09" / Punching operation: Automatic / Punch dies available: 3:1, 2:1 ring wire, calendar, coil, plastic comb, tear-off / Die type: Professional / Selectable punch pins (QSA): Optional / Custom dies: can be ordered / Variable margin depth: optional / Die changeover time: 5 minutes
Dimensions
Size: 78.7" L x 47.2" D x 63" H / Weight: 1,496 lbs.
Electrical
230 VAC 3-phase 60 Hz