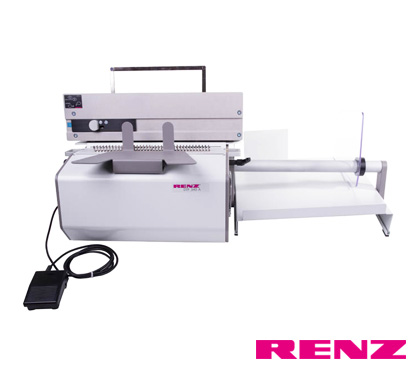 Renz DTP 340 A - 13.3" Punching Machine
The Renz DTP 340 A is a semi automatic desk top punching machine with automatic ejection into a paper tray.
The semi automatic system developed by Renz, creates an entirely new class of machines. It is the first punching system to feature ease of operation, high output speeds, and flexibility at an economical price.
An EXAMPLE of how you can save time and money: punching 8.5"x11" books, 60 sheets of 20# bond, you can produce:
– traditional punching: approximately 70 to 100 books per hour
– with DTP 340 A in semi-automatic mode approximately 300 to 350 books per hour
Video

Features
- Punching dies for all types of ring wire, plastic comb, coil and calendars
- Punch a wide range of mixed stocks
- Fast die changes
- Fastest machine in its class with automatic paper ejection.
- Up to 3 times faster than a standard bench top machine
- QSA (Quick Size Adjustment) for high flexibility of different paper formats
- Vertical paper feeding for precise punching

Specifications
Specifications
Mechanical cycles per hour: up to 1,200 / Min. punching width: 0.4" / Max. punching width: 13.38" / Min. unpunched length: 4.33" / Max. unpunched length: 31.49" / Max. punching thickness: 0.13" / Punching operation: sensor or foot pedal / Punch dies available: 3:1, 2:1 ring wire, calendar, coil, plastic comb, tear-off / Die type: Standard / Selectable punch pins (QSA): Yes / Custom dies: No / Variable margin depth: Yes / Die changeover time: 2 minutes
Dimensions
Size: 34.64" W x 25.1" D x 14.9" H / Weight: 117 lbs.
Electrical
110 VAC 60 Hz