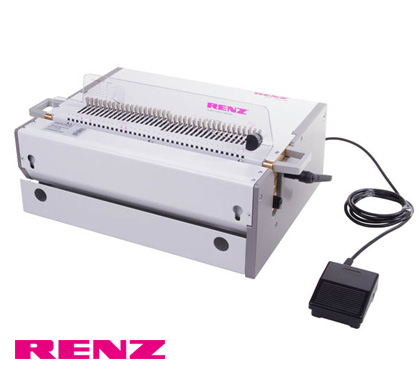 Renz DTP 340 M - 13.3" Punching Machine
The Renz DTP 340 M is a high performance punching system for punching paper with operating width of up to 13.38″. Simple operation thanks to foot pedal and vertical paper feed.
Very versatile with interchangeable tools.
Optimum paper format adjustment, all punching tools are delivered with punching pins which can be deselected.
MBS (Modual Binding System), modular expandable binding system for Renz Ring Wire® wire comb, plastic comb and coil binding. All MBS modules can be attached to the DTP 340 M for a high-performance, compact binding system or can be used on their own as a binding machine. (See brochure)
Video

Features
- Punching dies for all types of ring wire, plastic comb, coil and calendars
- Punch a wide range of mixed stocks
- Fast die changes
- Fastest machine in its class with automatic paper ejection.
- QSA (Quick Size Adjustment) for high flexibility of different paper formats
- Vertical paper feeding for precise punching
Compact simple design, one machine can punch and bind all jobs when using Renz MBS binding modules (see brochure)

Specifications
Specifications
Mechanical cycles per hour: up to 1,200 / Min. punching width: 0.4" / Max. punching width: 13.38" / Min. unpunched length: 1.57" / Max. unpunched length: 31.49" / Max. punching thickness: 0.13" / Punching operation: sensor or foot pedal / Punch dies available: 3:1, 2:1 ring wire, calendar, coil, plastic comb, tear-off / Die type: Standard / Selectable punch pins (QSA): Yes / Custom dies: No / Variable margin depth: Yes / Die changeover time: 2 minutes
Dimensions
Size: 14.2" W x 19.3" D x 9.9" H / Weight: 69 lbs.
Electrical
110 VAC 60 Hz