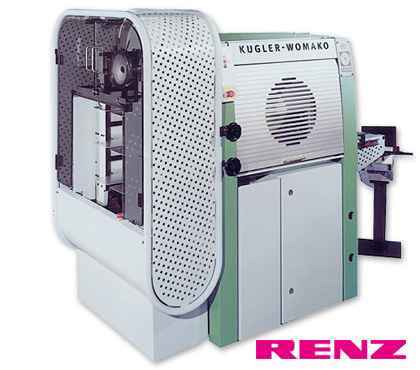 Kugler-Womako ProPunch 50 - 19.68" Punching Machine
The Kugler-Womako fully automatic high performance punching system brought to you by Renz.
Our punching machines can be operated comfortably by one person. Punch requires minimum space. Non-stop feeder and careful in-feed of materials from top. Trouble-free processing of mixed material (e.g. cardboard and plastic). Precise alignment before punching ensures highest accuracy.
For perforating of ring binder inserts as well as calendar and register sheets made of cardboard and plastic, paper for wire-bound products and much more.
The tool change only requires few manual adjustments.
A turn-over wheel ensures the sequence of illustrated and numbered products is kept in order.
Precise and simple tab adjustment for indexing.
Features
- Punching dies for all types of ring wire, plastic comb, coil, calendars and custom dies are available.
- Handle a range of mixed stock
- Tab adjustment for index cutting
- Optional 2-part split dies for book and calendar work
- Manual format setup
- Horizontal paper feeding for easy product loading

Specifications
Specifications
Mechanical cycles per hour: 6,600 standard, 9,000 optional / Min. punching width: 4.72" / Max. punching width: 19.68" / Min. unpunched length: 4.13 mm / Max. unpunched length: 19.68" / Max. punching thickness: up to 0.11" / Punching operation: Automatic / Punch dies available: 3:1, 2:1 ring wire, calendar, coil, plastic comb, tear-off. / Die type: Professional / Selectable punch pins (QSA): No / Custom dies: Can be ordered / Variable margin depth: Optional / Die changeover time: 15 min
Dimensions
Size: 94.5" L x 55.1" W x 68.9" H / Weight: 3,476 lbs.
Electrical
200 VAC 3-Phase 60 Hz