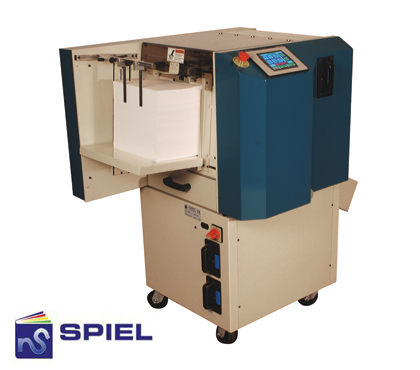 Spiel Sterling Digipunch - 14" Punching Machine
The Spiel Sterling Digipunch is an economical high speed punch designed for short run binderies as well as digital and commercial printers.
A touch screen offers complete automatic set up and automatic changeovers without tools.
The touch screen takes the guesswork out of the maintenance cycle by prompting operators when it is time to lubricate or sharpen the die.
Unlike many other machines, it is possible to run the machine in reverse to clear jam ups.
Video

Features
PAPER STABBER - The stabber can be set to stab 3 - 17 sheets. This is more consistent than punches that rely on gravity to feed the paper.
REGISTRATION TABLE - This registers the paper on all four sides, using side guides, front and rear stops. The rear stops accommodate sheets intermixed with tabs.
DIE - The dies can be changed in seconds. Pull pins result in faster changeovers between sheet sizes.
DELIVERY STACKER - The receding stacker operates in tandem with the feeder and stops the machine when the stacker is full.
TOUCH SCREEN - The Digipunch's touch screen computer guides you through the entire punching process.

Specifications
Specifications
Mechanical cycles per hour: up to 4,320 / Min. punching width: 5.5" / Max. punching width: 14" / Min. unpunched length: 4.25" / Max. unpunched length: 12" / Max. punching thickness: 17 sheets of 60 gsm / Punching operation: Automatic / Punch dies available: ring wire, coil, plastic comb / Die type: Quick change with removable pins
Dimensions
Size: 47" W x 30" D x 48" H / Weight: 510 lbs.
Electrical
115 VAC 60 Hz