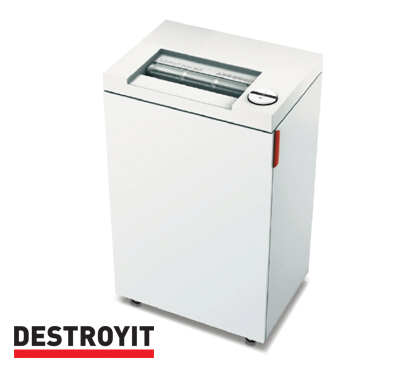 MBM Destroyit 2445 SMC High Security Shredder
Convenient and powerful Deskside shredder with Smart Shred Control™ (SSC) for shredding without paper jams.
Destroyit super micro-cut (SMC) shredders produce a shred particle that meets the standards of the highest DIN security level (P-7). All SMC models meet NSA/CSS specifications and are US DOD approved.
Automatic start and stop controlled by photo cell. Patented Electronic Capacity Control (ECC) indicator prevents jams by monitoring sheet capacity levels during operation. Automatic oil injection ensures optimal performance at all times. Quiet and powerful single phase motor rated for continuous operation. Sturdy chain drive with fully enclosed gear box housing. High quality wooden cabinet mounted on casters. Convenient, environmentally friendly shred bin does not require disposable shred bags.
Features
Patented Safety Shield
Electronically controlled, transparent safety shield keeps fingers out of the feed opening.
SSC - Smart Shred Control
If the SSC indicator shines green, everything is ok. If the SSC indicator flashes, the shredder has reached its capacity limit.
Lead Free Soldering
Only environmentally friendly, lead-free soldering is used in the production of our electrical components.
Solid Steel Cutting Shafts
High grade, hardened steel cutting shafts are milled in Destroyit's factory.
Easy Switch
Multifunction control element uses optical signals to indicate operational status and functions as an emergency stop switch.
Environmentally Friendly Bin
Durable, lightweight shred bins can be used with or without disposable bags.

Specifications
Specifications
Security Level P-7: 0.8mm x 5mm / Sheet Capacity: 5 to 7
Shred Volume: 9 gallons / Feed Opening: 9.5"
Dimensions
Size: 11.75" D x 15.5" W x 28.75" H / Shipping Weight: 53 lbs.
Electrical
115 VAC 60 Hz