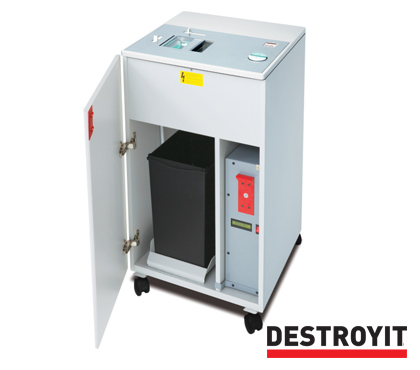 MBM Destroyit Hard Drive Punch & Degausser
Magnetically degausses hard drives from PCs, laptops, notebooks, printers, copiers, and PDAs, then punches a hole through the drive, destroying it irreparably. A slider mechanism drops the degaussed and punched drive into the enclosed bin to await proper disposal.
Degausser unit: Erases hard drives (laptop, desktop, and network up to 1.5 inches high) and high coercivity tape media, including all formats of LTO, Super DLT I and II, AIT, 3590 Series, 8 mm and more.
Hard Drive Punch unit: Punches a hole completely through the hard drive, making it unreadable. Suitable for 2.5 and 3.5 inch drives (single feed).
Automatic weight sensor cuts off the machine when the waste bin is full.
4-Step Operation
Step 1
Drop a used hard drive into the slide-out drawer on the degausser unit. Most drives up to 1.5 inches are acceptable.
Step 2
Close the drawer and the degaussing process automatically begins. In less than a minute, the drive is completely erased and may be removed.
Step 3
Remove the drive from the degausser unit and place it in the HDP feed chute. Hit the start button and a hardened steel die is driven completely through the drive.
Step 4
Use the slider lever to drop the destroyed drive into the sturdy collection bin to await proper disposal.

Specifications
Specifications
Hard drive sizes: 2.5" or 3.5" / Erasing area: 1.5" H x 4.25" W x 6" D / Degaussing cycle: 60 seconds / Degaussing system: capacitive discharge / Degausser magnetic field: 8,700 Oe (.87 Tesla) / Punching Cycle: 15 seconds
Dimensions
Size: 18.5" D x 19.5" W x 33.5" H / Shipping Weight: 247 lbs.
Electrical
115 VAC 60 Hz