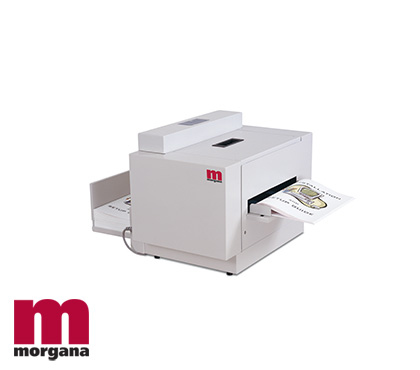 Morgana 104 Squarefold Square Spine Finisher
The revolutionary Morgana 104 Squarefold applies a square spine finish to your pre-folded booklets helping to achieve the look and feel of perfect bound books.
The Morgana 104 Squarefold adds increased value to your booklets by giving them a professional, perfect bound look with the security of a stapled finish. This revolutionary device can be used as a hand-fed unit attached to the BM60/61 Bookletmaker or linked to a wide range of traditional and digital finishing devices.
Added advantages of the Morgana 104 Squarefold are booklets that lay flat when closed, more booklets can fit into a box, and the ability to print onto the spine of thicker booklets.
Specifications
Specifications
Speed: up to 1800 booklets per hour / Booklet thickness: up to 22* sheets of 80 gsm / Booklet size maximum: 9.45" W x 12.79" L / Booklet size minimum: 3.94" W x 4.72" L / Three square finishing modes
Dimensions
Size: 22" D x 16" W x 13" H / Weight: 157 lbs.
Electrical
115 VAC 60 Hz
*based on 20# bond short grain uncoated paper and 15 amp electrical circuit with no extension cords.