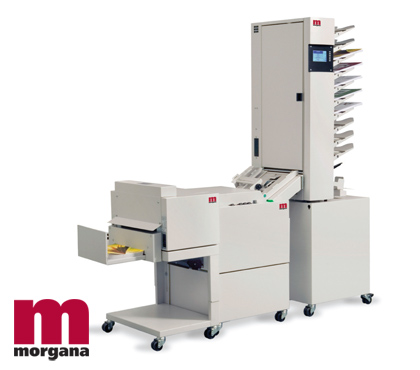 Morgana BM 61 Booklet Maker w/ Square Spine Finisher
The BM 61 Bookletmaker from Morgana is a compact and simple to use machine to make booklets up to 88 pages of 20lb bond paper.
The machine comes in two formats, the BM60 is for hand feeding only, while the BM61 seen here is equipped with a side jogging unit and can be connected to the C/AC 510 collator* and square fold unit* to give more automation to the booklet making process.
Various functions can be engaged or disengaged from the operator panel: manual mode, automatic mode, stapling off, or folding only, or folding off for stapling only.
An additional beltstacker can be fitted to the delivery for longer runs of booklets.
*as shown in the photo
Video

Specifications
Specifications
Up to 1800 booklets per hour / Saddle staple and fold / Up to 88 page booklets on 20# bond paper* / Media weight : 16# bond - 90# bond / Media size : 12" W x 17.3" L - 8.6" W x 10.6" L
Dimensions
Due to the variety of configurations available, click on the brochure link near the top of this page.
Electrical
115 VAC 60 Hz
*based on 20# bond short grain uncoated paper and 15 amp electrical circuit with no extension cords.