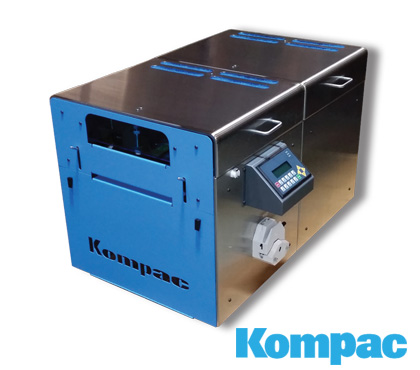 Kompac Elite Label 10 - UV/Aqueous Coater
Enhance the look and feel of your printed materials by using the Kompac Elite Label 10 - a small, yet powerful UV & aqueous coating and priming system capable of fitting label rolls or cut sheets up to 10" wide by any length. This compact desktop coater is the perfect inline/offline solution for smaller print jobs and provides production-level quality.
Labels and sheets flood coated on the Elite Label 10 provide abrasion resistance and added durability for products with repeat handling and shipping, protection from the outdoor elements, and shields against chemicals, cleaners, fingerprints, foods and water. Whether digital or offset printing, the Kompac Elite Label 10 will enhance the aesthetic quality and create the ultimate finish with vibrant, rich colors and brilliant shine.
Video

Features
- Compact, flood coating system
- Easily apply UV, aqueous, specialty coatings and primers
- Handles rolls up to 10" wide by unlimited length (can also handle sheets)
- Designed to support the short run label market
- Allows users to create premium labels using low cost substrates
- Can be placed inline or offline
- Optional unwind/rewind or feed table/delivery chute for sheets
- Provides coating control and speed adjustment on-the-fly with a color touch screen
- Eliminates the need for re-circulation of the coating – no waste!
- 2-minute standard coating change

Specifications
Specifications
Sheet Size: 10" W x virtually any length / UV Lamp: infinitely variable UV Solid State / Speed: Up to 80 feet per minute / Stock Weight: 150 to 600 gsm
Dimensions
Size: 32" L x 20" W x 20" H / Weight: 200 lbs.
Electrical
208-230 VAC 1-phase 60 Hz 25 Amps