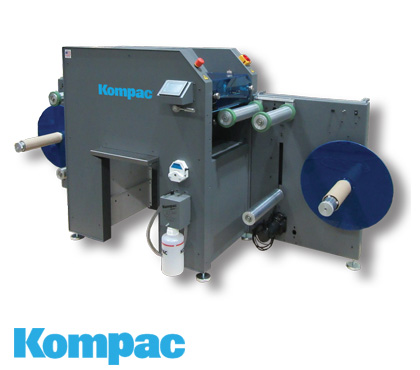 Kompac EZ Koat Web 15 Plus HD - UV/Aqueous Coater for Web
With a small footprint, the EZ Koat Web 15 Plus HD is a high-powered roll to roll coating system provides abrasion resistance and added durability for products with repeat handling and shipping, protection from the outdoor elements, and shields against chemicals, cleaners, fingerprints, food and water.
This large capacity UV/Aqueous coating system is perfect for label and web applications where roll to roll coating and priming is necessary.
The EZ Koat Web 15 Plus HD provides a quick and easy way to apply UV, aqueous, primer & specialty coatings to a wide variety of substrates, including those that are digitally printed.
Video

Features
- Cost effective, high productivity flood coating and priming system
- Easily apply UV, aqueous, specialty coatings and primers
- Can be used for sheets or rolls
- Ideal for mid to large run label printers and converters
- Accepts rolls up to 23" in diameter
- Small footprint
- Provides coating control and speed adjustment on-the-fly with color touch screen
- Uses Solid State Digital UV lamp controller that permits infinite curing and temperature control, saving power and money
- Eliminates the need for re-circulation of the coating – no waste!
- 2 minute coating change (no tanks to clean!)

Specifications
Specifications
Web Size: 14" W x 23" diameter roll / Core Size: 3" diameter / UV Lamp: Solid state - variable UV 70-200 watts per inch / Speed: Up to 100 feet per minute / Stock Weight: 60 to 500 gsm
Dimensions
Size: 110" L x 29" W x 51" H / Weight: 750 lbs.
Electrical
208-230 VAC 1-phase 60 Hz 25 Amps