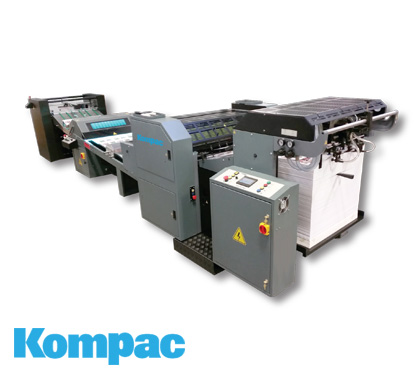 Kompac Kwik Finish 32 - UV/Aqueous Coater
With the Kompac Kwik Finish 32 you can create outstanding visuals with raised 3D spot coating effects and provide high quality finishes using UV or aqueous coatings. The Kwik Finish 32 is a high-end, production-level UV/aqueous coater built to meet the demand of medium/large digital printers, offset printers, commercial packagers, and converters. With optional die-cutting, creasing, and perforating, the Kwik Finish 32 is now able to produce short run packaging and prototypes with minimal setup times and costs.
This innovative coating and curing system provides a quick and easy way to apply UV, aqueous, primer and specialty coatings to a wide variety of substrates. From very thin paper to plastics, card stock & lenticular; whether digital or offset output, each job will have the visual appeal, lasting durability, protection and rub resistant finish that your customers expect. Flood or spot coat, the Kompac Kwik Finish is the most flexible, cost effective coating system on the market today for high volume sheet printing!
Video

Features
- Flood & Spot Coater
- Easily apply UV, aqueous, specialty coatings and primers
- Perfect coating solution for medium/large digital printers, offset printers, commercial packaging, and converters
- Optional die-cutting, perfing, or creasing
- Automatic stream feeder accepts pallets/dollies right from your digital or offset press (No "hand" loading means it is the perfect solution for variable data or sequential jobs)
- Handles substrates up to 22" x 32"
- Coat/Prime at up to 5500 sheets per hour
- System includes the Kompac High Pile Pallet/Dolly Stacker, handles 34" lift
- Optional IR Dryer
- Provides coating control and speed adjustment on-the-fly with color touch screen
- 2-minute coating change (with standard Kompac coater)

Specifications
Specifications
Sheet Size: 31.5" W x 22" L / Coating Area: 31.5" W x 21.65" L / Minimum Sheet Size: 12" x 10" / Speed: Up to 5,500 sheets per hour / Stock Weight: 60 to 600 gsm Note: Heavier stocks may require additional hardware / Feeder Height: 34" / Stacker Heigth: 34"
Dimensions
TBA
Electrical
TBA