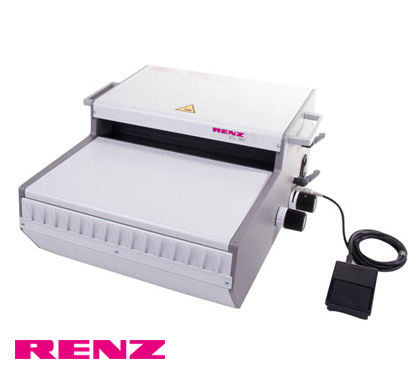 Renz ECL 360 - 14.1" Wire Binder
Up to 400 closings per hour are possible with or without calendar hangers. Calendar hangers have to be added manually before closing.
Footswitch operation leaves both hands free for binding. For all binding elements up to 1-1/2″ of any wire pitch.
A saftety circuit prevents finger injuries and guarantees optimum protection while working.
Robust metal construction for use in book binderies, copy shops, in-house printers, etc.
Quick and easy wire size adjustment diameters in just a few seconds.
In combination with the WP 300, the ECL 360 becomes a powerful binding system.
Video

Features
- Solid metal construction
- Quick and easy adjustment to the respective diameters
- Safety circuit prevents finger injuries
- Integrated hanging device
- Additional parallel adjustment guarantees an optimum, regular binding
- Quality "Made in Germany"

Specifications
Specifications
Working width: max. 14.17" / Book thickness: max. 1.5" (340 sheets of 70 gsm paper) / Binding capacity: max. 400 closings per hour (dependings on product, book thickness, format and operator) / Possible wire diameters: 3/16″ to 1-1/2″ / Pitch: Any
Dimensions
Size: 19.7" L x 20.9" D x 9.1" H / Weight: 86 lbs.
Electrical
115 VAC 60 Hz