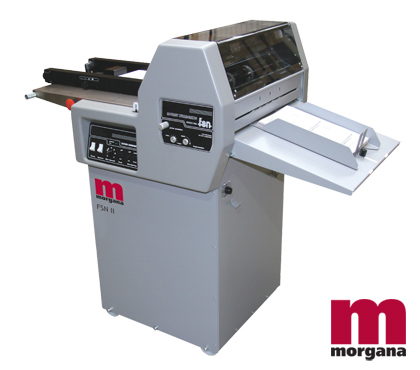 Morgana FSN Vacuum Feed Rotary Numbering Machine
The Morgana FSN Rotary Numbering Machine offers state-of-the-art design, rugged construction and stand-alone operation, freeing you from time consuming numbering on-press.
The FSN Rotary numbering machine is ideal for the small inplant, instant or commercial printer. With a production speed of 72,000 impressions per hour when using 8 heads. The FSN features quality numbering and the ability to feed up to 17.9" x 17.9" sheets.
The FSN has a powerful suction feeder which will feed a wide range of paper weights. Positive control of the paper from feed to delivery ensures unmatched and consistent register of numbering action.The suction feed system uses electronic pulsing, while feeding from the bottom of the stack allows loading on the run for non-stop production.
The Morgana System 90 jogger is designed to complement the FSN, but will also interface with other machines because of the angle of the jogger and the fact that it is fully adjustable in height
Video

Features
- Precision-feeding and sheet control
- Up to 8 parallel or convex heads
- Full safety enclosures and interlocks
- High power vacuum and air pump
- Fast and simple make-ready
- Imprinting capability
- Micro-porous ink roll system
- Perforates & numbers anywhere on the sheet in one pass
- Adjustable platen pressure
- Two perforators and one scorer as standard
- Electronic sheet spacing
- Continuous operation
- Fully mobile

Specifications
Specifications
Maximum sheet size: 18.1" x 18.1" / Minimum sheet size: 8.3" x 4.9" / Maximum paper weight: 7 part carbonless / Minimum paper weight: 16# bond / Speed per hour: up to 9000 sheets per hour / Maximum number of heads: 8 / Minimum spacing of heads on same collar: 1.96" Parallel head / Minimum spacing of heads on same collar: 2.89" Convex head / Minimum spacing of adjacent heads: 2.44" Parallel head / Minimum spacing of adjacent heads: 1.88" Convex head
Dimensions
Size: 30.7" D x 52.8" W x 41.3" H / Weight: 324 lbs.
Electrical
200-240 VAC 1-phase 60 Hz