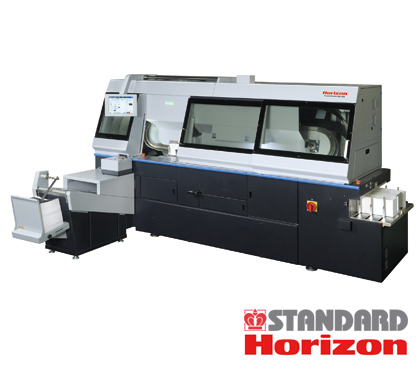 Standard Horizon BQ-480 Four-Clamp Perfect Binder
The Standard Horizon BQ-480 Perfect Binder features the quickest set-up and changeover for variable book production in its class, especially for book-of-one.
With interchangeable PUR and EVA glue tanks, the binder also offers advanced automation through a movable color touchscreen including adjustments for roller height, nipping height, and amount of side glue.
Specially designed to meet the requirements of PUR book binding, the BQ-480 includes a gentle elevator delivery system with a mere 5mm drop, and also accommodates the lowest temperature setting for PUR glue.
Video

Features
Higher Level of Automation
In addition to dimension based automation, the BQ-480 features customized automated setup accounting for paper type, signature vs. loose sheet, sewn book blocks, notch binding, and other key factors for higher quality with less effort.
Book of One Production
Maximum production speed of 800 books per hour for book of one production. (Production speed changes depending on thickness change from book to book.)
Gentle Book Delivery System
Uniquely designed book delivery mechanism delivers the book gently for high quality books, even with 2.56" thick books or PUR bound books.
Selection of Glue Types
The BQ-480 supports both EVA hotmelt glue and PUR hotmelt glue. Two different tanks are available for each glue type.

Specifications
Specifications
Number of Carriage Clamps: 4 / Book Size Maximum: 12.59″ Spine Length x 12.59″ / Book Size Minimum: 5.71" Spine Length x 4.14″ / Book Thickness: 0.04″ to 2.56″ / Cover Size Maximum: 12.59″ x 26.37″ / Cover Size Minimum: 5.32″ x 8.86″ / Cover Weight Range: 82 to 348 gsm / Cover Stack Height: 5.9" / Production Speed: up to 1,350 cycles per hour
Dimensions
Due to the variety of configurations available, click on the brochure link near the top of this page.
Electrical
200-208 VAC 3-phase 60 Hz