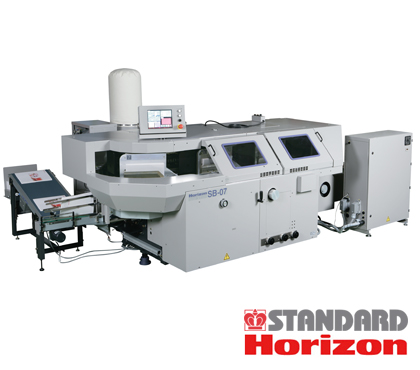 Standard Horizon SB-07 Seven-Clamp Perfect Binder
The Standard Horizon SB-07 seven-clamp perfect binder features automated operation, push-button simplicity, a small footprint, and high-quality production perfect binding.
The SB-07 can be run as a stand-alone binder or as a binding system with in-line three-knife trimming when connected to the HT-110 Three-knife Trimmer.
The SB-07 is designed for single-person production of up to 3,200 books per hour, with complete changeover and set-up performed in less than 3 minutes.
Standard features include a 10.4″ intelligent color touch-screen control console, automatic air-suction cover feeder that handles a wide range of cover materials without marking, automated in-line cover scoring, and job programming.
Video

Features
- High Speed Production
- up to 3,200 books per hour
- Binding books up to 1.77" thick
- Automated setup for quick changeover and easy operator fine tuning
- User friendly operation through the large color touchscreen
- Dual application rollers with side gluing to ensure stronger binding results
- Suction cover feeder handles a wide range of cover substrates
- Connectable to an inline three knife trimmer

Specifications
Specifications
Number of Carriage Clamps: 7 / Book Size Maximum: 15.75″ Spine Length x 12.6″ / Book Size Minimum: 5.32" Spine Length x 4.13″ / Book Thickness: 0.08″ to 1.77″ / Cover Size Maximum: 14.96″ x 25.98″ / Cover Size Minimum: 5.32″ x 8.67″ / Cover Weight Range: 82 to 348 gsm / Cover Stack Height: 5.91" / Production Speed: up to 3,200 cycles per hour
Dimensions
Due to the variety of configurations available, click on the brochure link near the top of this page.
Electrical
200 VAC 3-phase 60 Hz