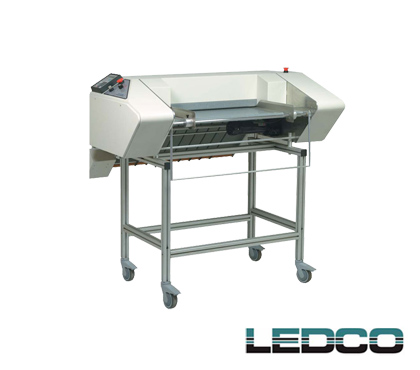 Ledco Automatic Cutter
The Automatic Cutter was designed as one part of LEDCO's High Speed System. It can also be used with other manufacturers' equipment. This cutter's fiber optic sensor precisely activates the shearing blade on the leading and trailing edges of each sheet.
- Designed for use with the LEDCO HS30 Thoroughbred Laminator.- Designed for use with the LEDCO Automatic Feeder.- Will adapt to fit with other similar equipment.- Increase productivity over hand-cutting.
Features
- Variable speed cutter runs up to 150 feet per minute.
- Sensor sees material within laminate to calculate cut location.
- Uses guillotine knife set for programmable cut positions.
- Uses adjustable slitters for side cuts.
- Levers open & close feed rollers.
- The feed table supports the web.
- Interchangeable cutting blades.
- Manufactured in the USA.

Specifications
Specifications
Maximum Web Width: 30" / Maximum Cutting Thickness: Up to 50 mil / Speed: up to 150 feet per minute
Dimensions
Size: 59" L x 56" D x 56" H / Weight: 320 lbs.
Electrical
115 VAC 12 Amps