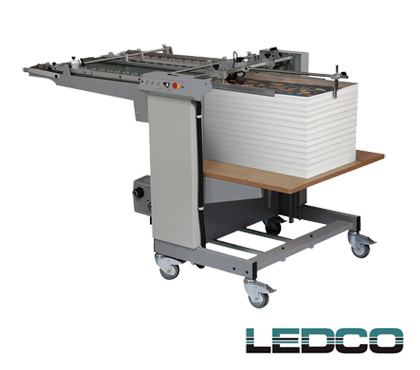 Ledco Automatic Feeder
The LEDCO Automatic Feeder was designed as an integral part of LEDCO's High Speed System.
- Designed for use with the LEDCO HS30 Thoroughbred Laminator.- Designed for use with the LEDCO Automatic Cutter.- Provide increased production over hand-feeding in high volume production runs.
Features
- Completely self-contained and mounted on casters for easy movement.
- Sheets are separated at the front by blowers and forwarded by a suction drum mounted over the pile.
- Blower/Vacuum pump included.
- The pile table is motorized and controlled by a single UP/DOWN switch.
- Adjustable limit switch controls the pile height automatically while running.
- Side register for feed guidance.

Specifications
Specifications
Maximum Sheet Size: 29.5" W x 39.4" L / Minimum Sheet Size: 6" W x 6" L / Maximum Pile Height: 26" / Speed: up to 100 feet per minute
Dimensions
Size: 41.5" L x 36.7" D x 35" H / Weight: 320 lbs.
Electrical
220 VAC 1-Phase 20 Amps