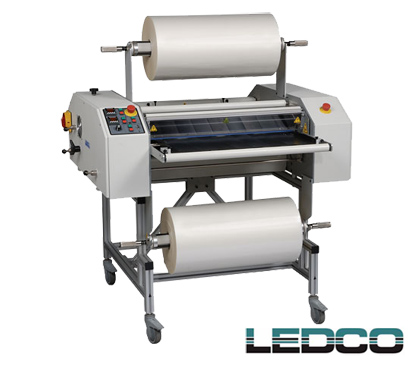 Ledco HS30 Thoroughbred - Laminator/Mounter
Two Heat Shoes, Standard Temperature Range. Material Widths up to 30".
Do you have high volume laminating needs, but a budget that won't allow for an expensive high-speed laminator? The HS-30 Thoroughbred 30"laminator from LEDCO could be the solution for you.
The HS-30 Thoroughbred gives you the best-combined features of the HD-25 Workhorse and High Speed 30 laminators with features that customers have requested; a powerful motor, larger heat shoes, and a high performance cooling system allow you to attain speeds of up to 65 fpm at a fraction of the cost of other comparable production machines.
- Designed for use with the LEDCO Automatic Feeder.- Designed for use with the LEDCO Automatic Cutter.
Features
- Intelligent heat controllers.
- Silicon rubber rollers.
- Swing-away top heat shoe.
- Built-in retractable slitters.
- Rear anti-wrap shield.
- Safety shield.
- Forced air cooling.
- Adjustable heat control.
- Supply roll tension knobs.
- Precision feed tray.
- Manufactured in the USA.

Specifications
Specifications
Heat Shoes: Two / Laminating Speed: up to 65 feet per minute / Max. Width: 30" / Mounting Thickness: up to 1/2" / Roller Diameter: 2.5" / Film Core: 3" / Maximum Film Roll Diameter: 22"
Dimensions
Size: 45" L x 38" D x 57" H / Weight: 385 lbs.
Electrical
208-240 VAC 1-Phase 50 Amps